Budva is a town in Montenegro on the Adriatic Sea.
Part of the Budva Riviera, it's known for sandy beaches and nightlife. Stone walls built by the Venetians surround the narrow streets of the medieval old town (Stari Grad). This historic district is home to a seaside citadel and religious sites such as the Church of Santa Maria in Punta, established in the 9th century.
Budva is a coastal tourist resort in Montenegro.
There are as many as 35 beaches in the Budva area, mostly rock and a little sand. During the summer in particular, the day and night-life offers opportunities to enjoy theatre plays and performances, music events and entertainment programs.
The old town is small but beautiful, with restaurants and boutiques. Budva is very well connected by bus with cities within Montenegro and major cities in neighboring countries
House is with three levels: basement, ground floor, first floor plus auxiliary building-summer house area of 49 m2.
The plot has a swimming pool and a landscaped courtyard. View from the terrace of this villa is beautiful because you can see the whole city and the sea.
The interior of the villa is perfect and fully equipped. The furniture is beautiful and every detail is selected with taste. There's also a billiard table as well. From each room there is an exit to the terrace. This villa has 3 bedrooms, an enormous living room and a kitchen that is separate, two bathrooms, and has 2 guest rooms also, in one of them there is a billiard table. The villa is very spacious and the area is very well used.
Budva can be reached by car using the coast road, which is in good condition. Travelling from Dubrovnik, this can take less than 2 hours depending on traffic. The nearest airport is Podgorica, 65 km from Budva.
Features
Total area: 663m2
Bedroom: 6
Bathroom: 2
Parking Place: Yes
Security System: Yes
Air Conditioning: Yes
Balcony: Yes
Garden: Yes
Internet: Yes
Cable TV: Yes
Outdoor Pool: Yes
Fireplace: Yes
Price: 1.700.000 euro
Property ID: H672
Address: Budva, Montenegro
Country: Montenegro
Property Id : 63944
Price: € 1,700,000
Property Size: 663 m2
Bedrooms: 6
Bathrooms: 2
Property ID: H672
Garage
Parking
Security System
Air Conditioning
Central Heating
Balcony
Garden
Internet
Cable TV
Outdoor Pool
Fireplace
Similar Listings
€ 380,000
Stone villa with excellent sea view for sale in Budva, Markovici This outstanding villa of 280m2 is in genuine Medi
[more]
Stone villa with excellent sea view for sale in Budva, Markovici This outstanding villa of 280m2 is in genuine Medi
[more]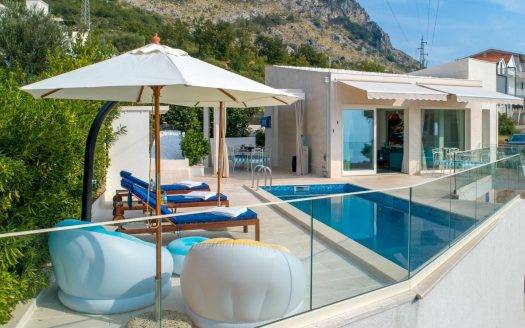 € 460,000
Villa in Blizikuce village, Sveti Stefan where is one of the most popular area in Montenegro with the total residen
[more]
Villa in Blizikuce village, Sveti Stefan where is one of the most popular area in Montenegro with the total residen
[more]
€ 750,000
A completely new stone villa, in Mediterranean style, in Buljarica (Budva). It is built about 100m above the main r
[more]
A completely new stone villa, in Mediterranean style, in Buljarica (Budva). It is built about 100m above the main r
[more]